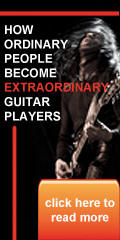 Guitar Tuning
Guitar Fretboard
Am pentatonic scale
Guitar Exercises
Guitar Tablature Triplets

Hammer-ons

A minor Grouping
Sound files and acoustic guitar progression
Video of me using track 6 of our play along CD. I'm playing directly into a cheap video camera
Guitar Scale fingering patterns
Major scale guitar exercises and playing in position
Guitar Chords over the Ionian mode
4th string root guitar chords and related guitar scales
Major Scale Theory
Guitar Modes in C major
Blank Guitar Fretboard illustrations
Guitar Lesson 1
Learn about the fretboard.
Guitar Lesson 2
Guitar fretboard continued.
Guitar Lesson 3
Guitar picking Exercises.
Guitar Lesson 4
Guitar picking and fretting exercises.
Guitar Lesson 5
Learning the A minor pentatonic scale.
Guitar Lesson 17B Learn the modes in the key of C major.
Guitar Lesson 18 Constructing the major scales.
Guitar Lesson 18B
Key Signatures.
Guitar Lesson 20
F major modes and playing lead over changes.

Welcome to Guitar Secrets
Guitar Lessons that Work!

A Visual Learning Experience, Lead Guitar Made Easy.
Instructional CD ROM. It's time to Learn Right!

So you want to be a Rock and Roll Superstar?

A Visual Learning Experience, Lead Guitar Made Easy
Instructional CD ROM.

Includes over 150 professionally designed guitar lessons.
Just one lesson could make a difference.

Just place the CD ROM into your computer and you're ready to learn. No membership, just pure guitar. Over 150 lessons.

Are you Frustrated with the Guitar?
Do you really want to learn?
Have you tried other systems with no success?

This CD ROM includes an unbelievable amount of information.
No subscriptions or membership required, just pure guitar.

Is your musical career worth twenty bucks?
Learn the SECRETS to playing Professional Guitar.

Complete 30 day money back guarantee.

Order A Visual Learning Experience
Lead Guitar Made Easy and receive a
FREE SET OF GUITAR STRINGS

If you need help along the way, no problem assistance available free.

Order today and save.

Order our CD ROM Lead Guitar Made Easy and learn to Rock!

| | |
| --- | --- |
| List Price: | $29.95 |
| Your Price: | $19.95 |
| Savings: | $10.00 |

Limited time offer

Secure Site
Ships within 2-3 days
Item Number: CDROM1
Format: CD ROM
PC Compatible

* Offer not good on previously placed orders


Whether you're just beginning or looking to advance, you will benefit from a Lead Guitar Made Easy CD ROM.
Great for both acoustic and electric guitar.
Don't waste valuable time, you owe it to yourself. Learn right! Only $19.95 Add to cart

The CD ROM Lead Guitar Made Easy includes progression charts with chords and guitar audio examples. The charts will illustrate progressions in each major key, over 90 of them. These progression charts are great for song writing. Just pick out the desired chords and use the recommended scales to improvise with.

Learn to play the major and pentatonic scales up and down the fretboard with illustrations, tablature and Guitar

audio and Video files.

Do you know how to play all the major scales? Can you play the pentatonic scale in any key? Do you know what chords to use for every major key? Do you know how to play quadruplets or the E Aeolian mode? Can you play 6 different progressions in every major key? Do you know what chords to use for the harmonic or melodic minor scales?

Each of the major and harmonic minor progressions will have the recommended fingering for each chord. These progressions are ideal for both electric and acoustic guitars. Each progression will mix in the different types of bar chords.

Scales with tablature and real guitar audio files, so you can master the fretboard in all positions.

Learn how to play and use the pentatonic scales, major scales and more.

Tablature and guitar audio for A, B, C, D, E, F and G major pentatonic scales.

Learn the major scales, A, B, C, D, E, F, F# and G.

Learn an excellent technique to create melodies in any key or scale. Easy step by step instructions. Use this technique to build scale runs.

I have received the CD-ROM, I started to review it. I am amazed by this instructional package, is very well put together and effective (as far as translating the ideas go). It is a great investment. I am a keyboard player that loves the guitar and wanted something like this for a long time. Thank you, Noel.


Who do you guys think you are? I have just tried out my "Visual Learning Experience" CD for the first time; and you have caused me to throw out hundreds of dollars worth of so-called instruction books, cd's, tapes, and downloads galore. Are you trying to remake the "guitar-lessons-experience" trauma. What right do you have to make all this agony ...... so: easy, entertaining, educational, and

affordable ...... all on a single CD ! Shame on you ! I intend to report you to every one that will listen. ;-) RJ GELLER

Received my Guitar Secrets CD ROM, it is what I have been looking for. ...It is simple to navigate and is not loaded down with all of the useless glitter that I have found on the other learning software that I have tried. This rocks! Keep On! Steve

I've played rhythm for years and not knowing lead has always been a mystery to me. Like a jigsaw puzzle undone. Thanks to your in depth CD ROM on learning the fretboard and how to apply riffs, finally all the pieces fit. I highly recommend this CD ROM.


Michael said "Very nice, best $20 I ever spent, and you're a good teacher".
Thank you.


Bill Said "hello received the CD today. It is awesome!!! Thanks a million".


I just received A Visual Learning Experience and would like to let you know, these are the best lessons I've ever seen. Thank you Gary


It was like it was meant to be. Rick


Your lessons are magical, thank you. Linda


I have been toying/learning from your CD, It is terrific.
Thanks for putting out such a great product. Scott


Hello, My name is Steve and I purchased "Guitar Secrets" a few months ago. It is an invaluable tool and I am learning and growing in my knowledge and practical application of that knowledge toward the guitar. Your course is absolutely the best! Thanks, Steve


Got everything today and I love the secrets CD. Nice job. I spent two years with a composer/teacher to learn this and now a fine refresher. Thanks, Wayne


This is a great program! I am so frustrated with guitar teachers that don't have a format or any structured training plan. And most guitar heads are not teachers, they can play but getting the info to you is another story. This is well worth the money. I hope to cover every section.
Thanks again. Mike


I love your CD! I have wanted to study lead, melodies, and theory, but could never find a concise easy to understand presentation. You have done it. I bought my copy a while back. This one I am giving to a friend for his birthday. Great publication! Tom


I EXPLORED and PLAYED your CD and it is a WINNER ALREADY! Being able to play chords along with recorded audio is going to be a new experience for me -- kinda like having my own private teacher and band available 24/7! I already printed out the fret board charts (2 types) so I can continue my study of pentatonic scales and note positions.


Thanks Again for providing me a wonderful method to learn the guitar in the most efficient way possible. Sincerely, Willie

Check out this Play Along CD. This is a must to Jam to.
Includes 7 professionally designed Instrumental Guitar Backup tracks.

In the video below, I'm playing a simple lead guitar part over track 6. I'm using the Em pentatonic scale and the E Aeolian mode. Order you play Along CD today and see how many different lead guitar parts or melodies you can come up with. You will be amazed at how much better you will get when improvising over the tracks.

Each play along track has been designed for you to learn to improvise in a band setting.

Now you can play along with your own professionally designed rhythm tracks. The Play

along CD includes suggested scales with illustrations to help you learn to improvise. Now you can rehearse with your own band. Practice different scales or melodies without worrying about stopping the band. You can also sing over the tracks or play harmonica. Playing in time with the band is vital, so order your play along tracks today and learn to improvise.

Professional Play along CD. Only $9.95. Add to cart

Limited time offer

Play along CD
Professional
Instrumental Jam Tracks


Ships within 2-3 days
Item Number: CD1
Format: CD

100% Customer Satisfaction Guaranteed. Complete 30 day money back guarantee. CC NOW our online retailer.
Secure online shopping.

Copyright © 1998 - 2013 Guitar Secrets Inc. All rights reserved
Lead Guitar Made Easy, A Visual Learning Experience
Email us Information Privacy Disclaimer Customer Service
No part of this work may be reproduced without the permission in writing from the publisher.