C Major using Quadruplets

and major scale fingering exercises

[C major modes] [ C Ionian ] [ Dorian mode ] [ Phrygian mode ] [ Lydian mode ] [ Mixolydian Mode ] [ Aeolian mode ] [ Locrian mode ] [ Basic major scale fingerings ] [ F major modes ] [ G Modes ] [ Constructing Scales ] [ Key Signatures and constructing major scales ] [ Modulation, cadence, progressions ]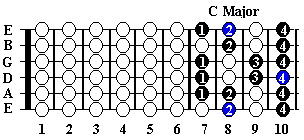 Once you learn to play the C major scales above, move them to different locations for other major scales. For example, you can move this entire fingering down 3 frets and start on the 5th fret and play the key of A major. If you start on the 3rd fret you could play in the key of G major. Moving to the 12th fret would be E major and so on.
Good Luck,
Guitar Secrets
Copyright © 1998 - 2013 Guitar Secrets Inc. All rights reserved
Lead Guitar Made Easy, A Visual Learning Experience
Email us Information Privacy Disclaimer Customer Service guitar lessons
No part of this work may be reproduced without the permission in writing from the publisher.