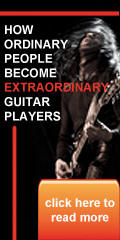 Free Guitar Lessons
Guitar Tuning
Guitar Fretboard
Pentatonic scale
Guitar Exercises
Guitar Tablature Triplets
Hammer-ons
Am Grouping
4th string root guitar chords and related guitar scales
Major Scale Theory
Guitar Modes in C major
Guitar Lesson 1
Learn about the fretboard.
Guitar Lesson 2
Guitar fretboard continued.
Guitar Lesson 3
Guitar picking Exercises.
Guitar Lesson 4
Guitar picking and fretting exercises.
Guitar Lesson 5
Learning the A minor pentatonic scale.
Guitar Lesson 17B Learn the modes in the key of C major.
Guitar Lesson 18 Constructing the major scales.
Guitar Lesson 18B
Key Signatures.
Welcome to Guitar Secrets
Guitar Lessons that Work!

Hotel California part II
Recall in the last lesson for Hotel California, the beginning of the song had the chords of:
Bm, F#, A, E, G, D, Em and F#. Hotel California Part I.
The lead to follow, uses these chords to harmonize by using arpeggios. Arpeggios are chords that are played one note at a time and not strummed.
harmonized arpeggio's. This sound file is located at 5:40 on the CD.








Good Luck,
Guitar Secrets
Copyright © 1998 - 2012 Guitar Secrets Inc. All rights reserved
Lead Guitar Made Easy, A Visual Learning Experience
Email us Information Privacy Disclaimer Customer Service
No part of this work may be reproduced without the permission in writing from the publisher.