Guitar Secrets Lead Guitar Made Easy
Become a member – Join free


Welcome to Guitar Secrets
Lead Guitar Made Easy
The Star Spangled Banner –  Single note soloing

It's the lesson behind the song that will open your eyes.

Check this out. I've put together a killer downloadable guitar lesson called, single note soloing. You will learn how to use the C major scale which incorporates 4 different fingering types. Not only will you learn how to play each position type, you will learn how to use each scale by playing the Star Spangled Banner. There's no better way to learn how to play lead guitar. This lesson includes everything you need to learn how to solo. Check out all the information here.
This is a highly recommended guitar lesson. Download to your own computer and learn to solo. Complete 30 day money back guarantee.

C Major Scale.
Quadruplets and major scale fingering exercises
Once you learn to play each of the C major scale exercises illustrated below, you can easily move these patterns ether up or down the fret-board to change the key. For example, you can move this entire fingering pattern down 3 frets and start on the 5th fret and play in the key of A major. If you started this pattern on the 3rd fret, you could play in the key of G major. Moving to the 12th fret, you would be in E major and so on. This is a must learn guitar exercise. You will be playing quadruplets, or 4 notes per beat.

The numbers in the image below represents each finger to use. Notice how you can play 3 notes per string and really burn up the fret-board. This exercise will really get your fingers in shape. It is highly recommended that you use the suggested fingering pattern that is illustrated.
The tablature has also been included.
1=Index
2=Middle
3=Ring
4=Pinkie

You will find all of the major scales, with tablature and guitar audio in the Gold Level Members Section.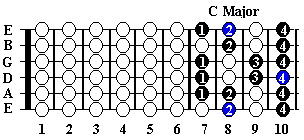 Good Luck,
Guitar Secrets
Save
Save
Save
Save
Save
Save
Save
Save
Save
Save
Save
Save
Save
Save
Save